Mercedes-Benz 170Vb (W136) 1953
Hemtransport av vraket
Shipping the old wreck
Augusti/August 2008
Via en annons fann jag en Mercedes-Benz 170Va i tveksamt renoverbart skick. Den var rostig och saknade många delar, och av inredningen fanns det nästan inget kvar, förutom det främre passagerarsätet. Trots kloka förmaningar att glömma det gamla vraket, bestämde jag mig för att ändå försöka rädda den gamla 'damen' från att bli skrotad och såld i delar, vilket annars hade varit ett troligt öde. Egentligen är nog det projektet varken klokt eller ekonomiskt, men jag bryr mig inte så mycket. Jag gillar att renovera gamla Mercor, så för mig kommer detta att bli både roligt och givande. Den största belöningen hoppas jag få den dagen den gamla Mercan rullar igen för egen maskin, men det kommer nog att ta ett tag...
Via an ad I found a Mercedes-Benz 170 Va in a very poor condition, uncertain if it was restorable. A lot of rust and missing parts and the interior was almost nonexistent, there was only the front passenger seat left. Some friends told me wisely to forget the old wreck, but I decided to make a try anyway and save the old 'lady' from being cut into pieces and sold as parts, which otherwise was the likeliest destiny. This project is probably neither wise or economically, but I do not care. I like to restore old Benzes, so for me this will be both fun and worthwhile. Hopefully I will get my reward the day the old Benz rolls again under its own power, but it is probably going to take a while...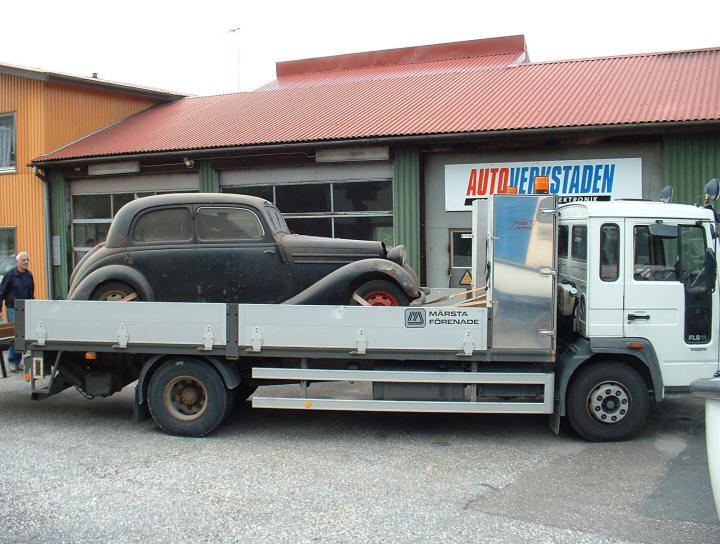 Någonstans vid den svenska västkusten lastade vi på det gamla vraket på lastbilen. Enligt de medföljande registreringshandlingarna är bilen inregistrerad i januari 1951 som en 170 Va, men "modifierades" under 1953 till en 170 Vb, anledningen till det är inte känd. Bilen har enligt registeringsdokumenten haft fem olika ägare, innan den i januari 1963 avregisterades och såldes som skrot. Dock skrotade inte bilen, och har troligen vandrat mellan olika ägare sedan dess, därför är ägarhistoriken de senaste 45 åren oklar.
At sellers location. The old wreck is loaded onto the truck. According to the registration documents the car was first registered in January 1951 as a 170 Va. But during 1953 the car was "modified" to a 170 Vb instead, why is unknown. During the period the car was used and registered, it had a total of five different owners until January 1963 when the car was unregistered and sold as scrap to a scrap dealer. However, the car was not scrapped, and have since then probably wandered between various owners, therefore the cars history the last 45 years is unclear.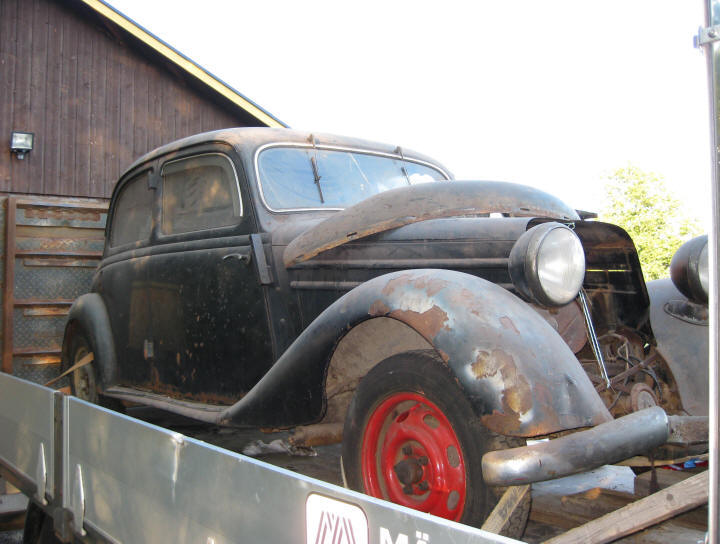 Hemma, med Volvo Amazonfälgar påsatta. Originaldäcken var alla punkterade och låg inne i bilen. Den högra bakskärmen ligger lös ovanpå motorhuven. Under första vintern får hon vila i en gammal lada under tiden motor och växellåda genomgår renovering på annan ort.
Home, with Volvo Amazon tiers fitted. The original tiers were all flat and loaded into the car. The right rear wing is placed on top of the hood. During the first winter she will be resting in an old barn, meanwhile the engine and transmission is undergoing rebuilding.

Interiören, med resterna av ett baksäte ovanpå däcken, och inunder syns skymten av två växellådor och några stötfångardelar.
The interior, with the remains of a backseat on top of the tiers, and underneath, a glimpse of two gearboxes and some bumpers.